Clinical Department
Internal medicine, pediatrics, surgery, neurosurgery, obstetrics and gynecology, otolaryngology, ophthalmology, orthopedics, dermatology, urology, rehabilitation, dental and oral surgery
Reception Hours
Outpatient reception hours: 8:30a.m. – 11:00a.m., Monday to Friday
Closed on Saturdays, Sundays, national and New Year's holidays
Appointment & Consultation Process
Consultation procedures for outpatients are as below.
Opening days and start times differ depending on the clinical department.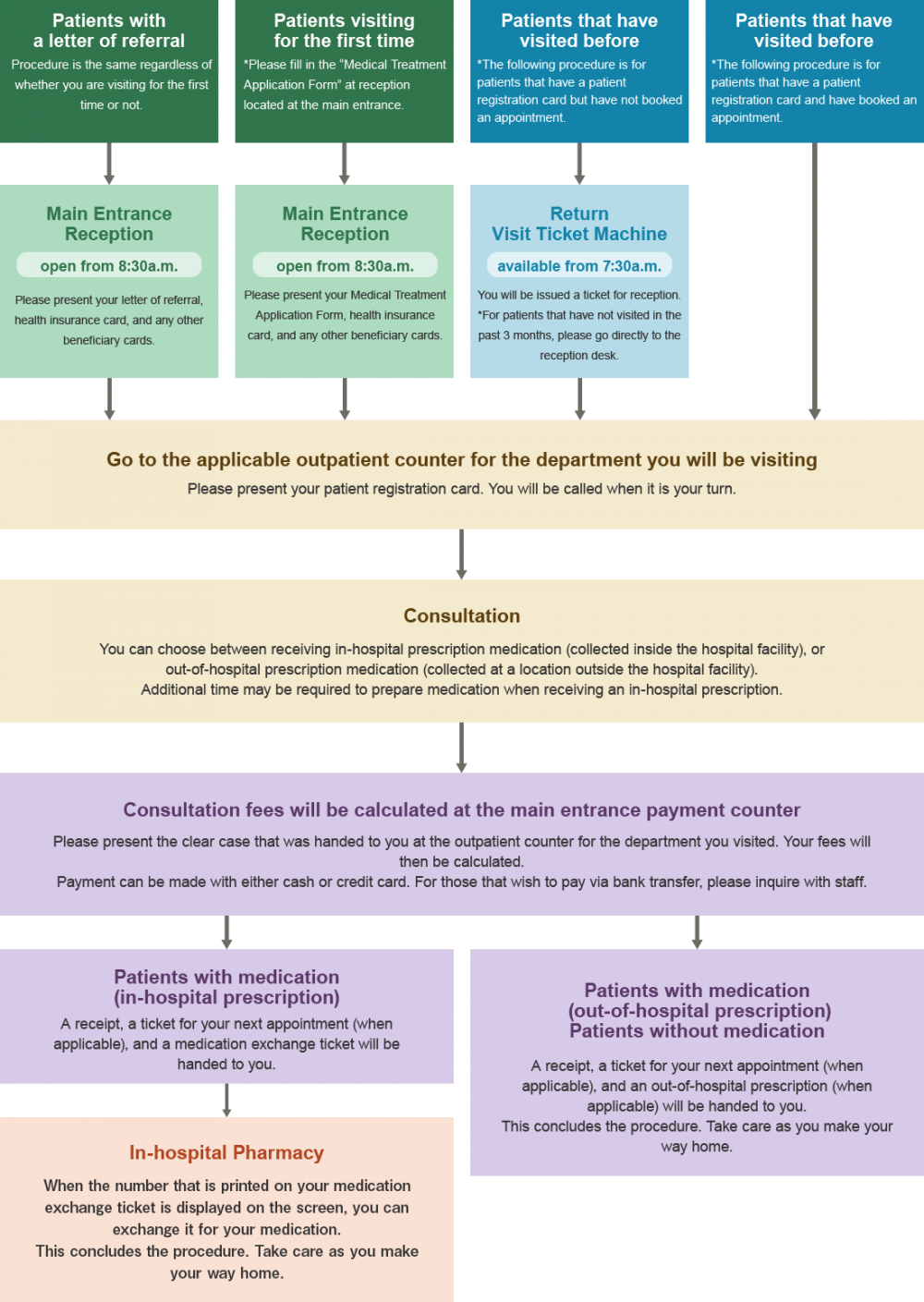 Access
Address Tamachi 2-4-7, Myoko, Niigata Prefecture 944-0031
Approx. 5 minutes walk from Arai Station on the Echigo Tokimeki Railway Myoko Haneuma Line
Approx. 15 minutes by car from the Joetsu-Takada IC on the Joshin-etsu Expressway
Hospital Information
Facility Name
JA Niigata Kouseiren
Keinan General Hospital
Address
Tamachi 2-4-7, Myoko, Niigata Prefecture 944-0031
Phone Number
0255-72-3161
Fax Number
0255-73-8102
Date of Establishment
January 1, 1963
Founder
JA Niigata Kouseiren
Chairman Representative of the Board of Directors: Nouji Tanaka
Supervisor
Hospital Director: Fumiaki Masani
Number of Staff
217 (currently as of September 2020)
Number of Hospital Beds
General hospital beds: 120
Hospital Annexes
Long-term Care Health Facility "Haneuma no Sato"
Home Nursing Station Keinan
In-home Long-term Care Support "Keinan General Hospital In-home Care Support Center"
Hospital Principles
Operating as a core hospital in the Myoko area, Keinan General Hospital aims to meet the diversifying needs of local residents and provide high-quality patient-centered medical care.
Our hospital strives to improve health care for JA association members and local residents, and to promote and improve elderly welfare.
We aim to be a hospital that is open to the community by improving the qualifications of our staff and managing the hospital efficiently.